Elliot Laniado: Not Taking No for an Answer
Episode 102 of Window Treatments for Profit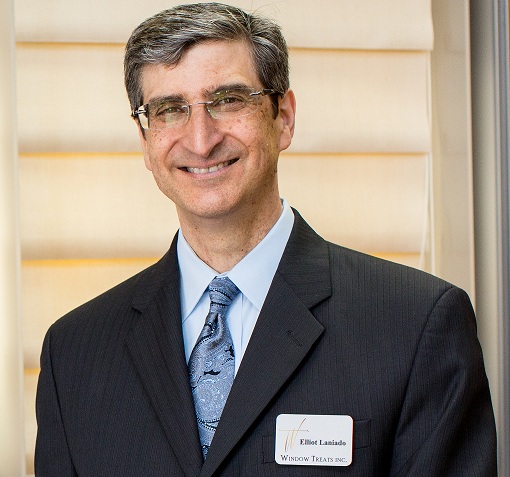 More About Elliot Laniado:
Elliot started his window treatment career as a man with a van with samples and today has a storefront in downtown Red Bank, NJ, a fleet of three vehicles, employing 12 people.
His first approach was asking people to give him a chance, and he wouldn't accept no for an answer. He always found a way. Today, he is living his dream to "Work with good people, work with nice people, and run an honest business."
A turning point in his business happened in 1997 when Elliot became a Window Treatment Consultant through WCAA. This move helped him step into the world of drapery. Since then, Elliot became the ASID Finance Director for two years, gave classes to ASID designers on "How to avoid drapery nightmares" and, even today, continues to teach the Brookdale design program "The History of Window Treatments."
Elliot is a member of Exciting Windows! Since 2006.
Elliot has fulfilled his lifelong dream of being a first responder through his volunteer EMT work.
He lives in New Jersey with his wife, Nadine. They have three married children and ten grandchildren.
Connect with Elliot Laniado
"How to avoid Drapery Nightmares"
What's new with LuAnn Nigara
http://www.luannnigara.com/cob
Get The Goodies!
For checklists, resources, and extra goodies from A Well-Designed Business sign up for free here.
To Get on LuAnn's Email List, text the word designbiz to 444999!
Purchase LuAnn's Books Here:
Book 1: The Making of A Well – Designed Business: Turn Inspiration into Action
Book 2: A Well-Designed Business – The Power Talk Friday Experts
Pre-Order Book 3: A Well-Designed Business – The Power Talk Friday Experts Volume 2
Connect with LuAnn Nigara
LuAnn's Website
LuAnn's Blog
Like Us: Facebook | Tweet Us: Twitter | Follow Us: Instagram | Listen Here: Podcast
Other Shows Mentioned:
#99: Susan Day: How to Maintain Your Sales While Working a Finite Number of Weeks
#84: Jessica Harling: Key Steps to Onboard & Train New Employees
#67: Jessica Harling: The Art of Decision Making
#61: Jessica Harling: The 7 Step Sales Process and 3 Proven Sales Techniques to be More Successful
Other Resources Mentioned: