Julie Wood: Let Passion and Enthusiasm Be Your Guide
Episode 164 of Window Treatments for Profit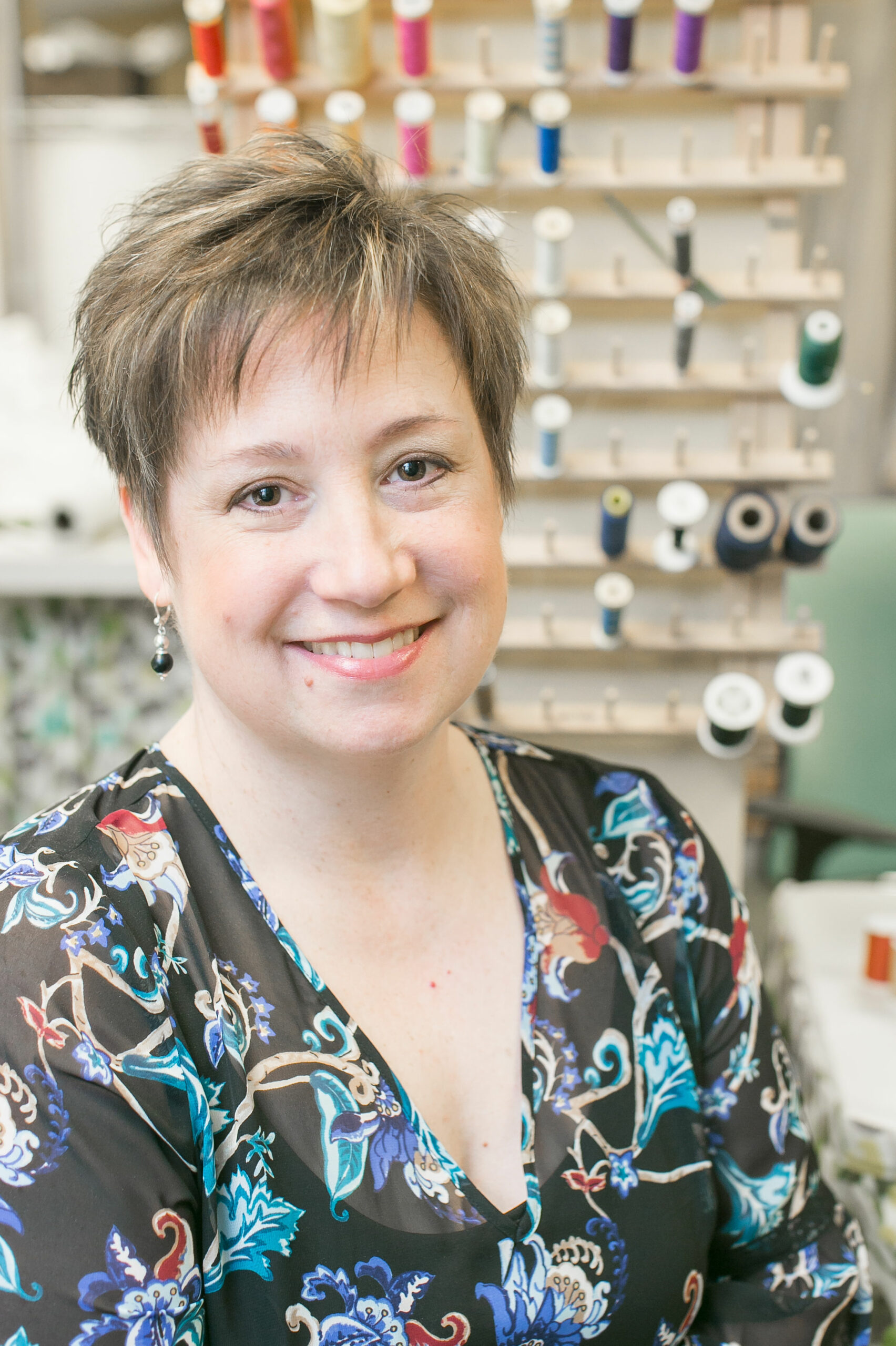 Today With Julie Wood:
Welcome to Window Treatments for Profit. Today we are joined by Julie Wood, who calls herself "the interior designer's best friend." Julie's business, The Leading Edge Drapery, is a professional workroom specializing in custom collaboration with interior designers to create luxury window treatments and soft home furnishings. She knows how to work with designers because she was trained as one. Tune in to hear Julie's story, including several AHA moments we can all learn from.
Pick It Apart
[1:00] LuAnn thanks Julie for building a leader and helping to build relationships among others in the industry.
[6:36] Julie gives credit to her childhood sewing teacher for helping her hone a natural love of fabric and sewing.
[22:11] Julie discusses the importance of business knowledge, especially in a creative industry.
[28:38] LuAnn and Julie talk about the importance of taking leaps in your business, whether you are ready or not.
[33:23] Julie and LuAnn discuss the importance of defining your ideal client.
[45:20] Julie reminds listeners not to feel guilty or internalize mistakes because it's business, so make decisions and move on.
LuAnn Nigara and Julie Wood's Ah-Ha Moments
"That's what I enjoy about getting groups together. You take away so much more than you ever put into just organizing it." – Julie Wood
"Custom is when you don't know what you're doing and you've said 'yes'." – Julie Wood
"You can practice all day long, in whatever kind of career you want. You can practice stained glass. You can practice woodworking. You can practice that all day and night. However, if you have no business knowledge, it's almost like you're setting yourself up for failure." – Julie Wood
"We know what we know. And we don't have any idea what we don't know." – LuAnn Nigara
"If you wait until you're ready to leap, you're never going to leap because you're never going to be ready." – Julie Wood
More About Julie Wood:
Julie Wood is "an interior designer's best friend!". Owner of The Leading Edge Drapery, Julie began her career as an Art Educator. An avid interest in interior design led her to enroll in the Interior Design program at New Hampshire Institute of Art. While at NHIA, her love of fabric and sewing translated perfectly into a career creating window treatments.
Since beginning the business in 2006, The Leading Edge Drapery has cultivated wholesale clients. The designer /workroom relationship is very important. Julie enjoys assisting designers put forth their best product that will create spaces for clients that far exceed both client and designer expectations.
Julie understands the importance of fresh and unique treatments and continues to enhance her knowledge through webinars, workshops and classes. She is constantly learning new methods and techniques to incorporate into products. Julie shares these techniques with designers and creates samples that designers can share with their client.
Julie loves her job and role assisting the designers she works for. She looks forward to creating original contemporary treatments and products for your projects. (Not your Grandma's curtains.) When Julie is not busy sewing, she enjoys traveling and textile education. She served as president of the National Window Coverings Association of America 2016-2018.
Connect with Julie Wood
What's new with LuAnn Nigara
http://www.luannnigara.com/cob
Get The Goodies!
For checklists, resources, and extra goodies from A Well-Designed Business sign up for free here.
To Get on LuAnn's Email List, text the word designbiz to 444999!
Purchase LuAnn's Books Here:
Book 1: The Making of A Well – Designed Business: Turn Inspiration into Action
Audiobook: The Making of A Well – Designed Business: Turn Inspiration into Action
Book 2: A Well-Designed Business – The Power Talk Friday Experts
Pre-Order Book 3: A Well-Designed Business – The Power Talk Friday Experts Volume 2
Connect with LuAnn Nigara
LuAnn's Website
LuAnn's Blog
Like Us: Facebook | Tweet Us: Twitter | Follow Us: Instagram | Listen Here: Podcast
Other Shows Mentioned:
WTFP #29: C-Suite Talks with Madeleine MacRae: The Power of Identifying your Ideal Client
WTFP #58: Bryan Short: The Value of Business Coaching for a Window Treatment Professional
WTFP #143: Vita Vygovska: Market to Interior Designers by Building Relationships
AWDB #395: Power Talk Friday: Michele Williams: Financial Health Checklist for Your Interior Design Business
AWDB #424: Power Talk Friday: Re-Visiting Michele Williams' Tips for Time Management
AWDB #866: McCall Dulkys: Building a Successful Design Business From Around the World
AWDB #870: Jillian Lare: Processes to Know Your Numbers
Other Resources Mentioned: